The Different Sides of Elsa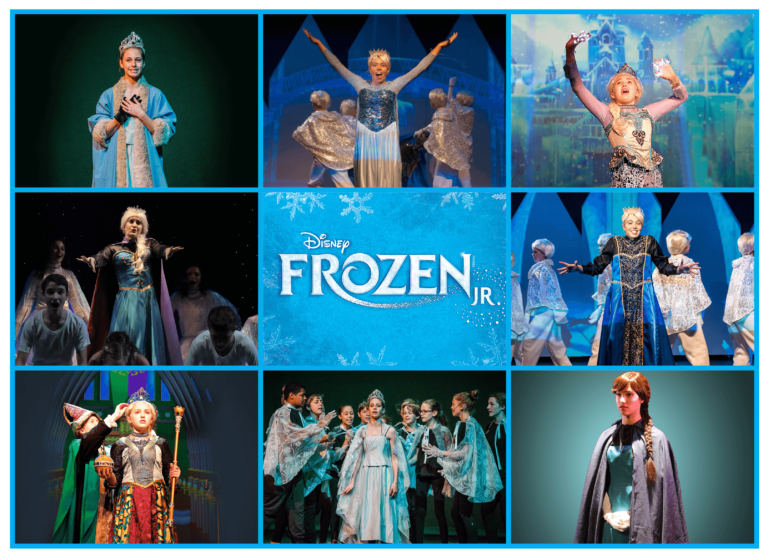 Frozen JR. features three iterations of the austere future Queen of Arendelle, and there are a myriad of ways you can achieve her signature looks cohesively amongst the three actors you cast as Young, Middle, and adult Elsa.
Start with similar, richly adorned, regal looks for each and consider dressing your actors in shades of royal purples and blues. For the younger princesses, research Norweigan bunads – richly adorned traditional dresses still worn today. Though not required, the eldest Elsa might don a crown for the coronation scene and, later, change into an "icier" for the showstopping "Let It Go."
Gwendolyn Brooks Middle School (Oak Park, IL)
Each Elsa will also need a pair of gloves, given to her by her mother to help her control her powers. Elsa's official gloves will soon be available at mtishows.com, or create your own pair to match your production's costume palette.
Brooklyn Children's Theatre (Brooklyn, NY)
Cautious and conventional, Elsa may wear her hair pinned back for the coronation before "letting it go" loose later in the play. As with all young performers, styling the actor's own hair works best. Though portrayed with silvery-blonde hair in the animated movie, there is nothing written into the script that indicates it is a necessity for Elsa. Have fun working with your own actor to find the various ways her magical powers can be embodied.
And most importantly – have fun costuming this wonderfully complex and rich character!
Jeter Backyard Theater (Gibsonia, PA)