Mike's Magnificent 7 Layer Bars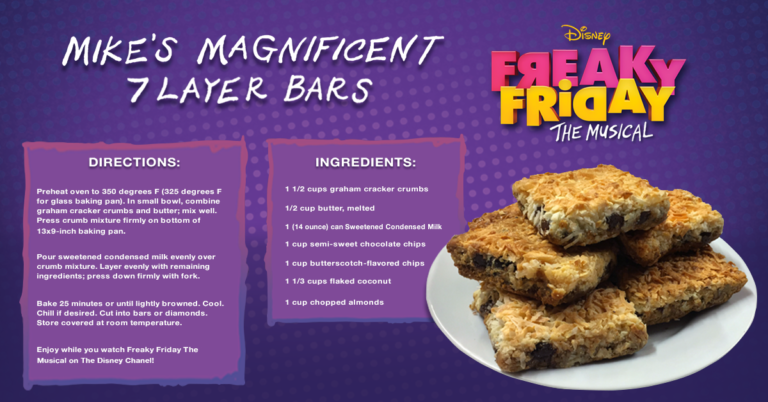 Make the most of your movie night by serving a platter of these delicious treats inspired by the Disney Channel Original Movie!
Ingredients
1 1/2 cups graham cracker crumbs
1/2 cup butter or margarine, melted
1 (14 ounce) can sweetened condensed milk
1 cup semi-sweet chocolate chips
1 cup butterscotch-flavored chips
1 1/3 cups flaked coconut
1 cup chopped almonds
Directions
Preheat oven to 350 degrees F (325 degrees F for glass baking pan). In small bowl, combine graham cracker crumbs and butter; mix well. Press crumb mixture firmly on bottom of 13×9-inch baking pan.
Pour sweetened condensed milk evenly over crumb mixture. Layer evenly with remaining ingredients; press down firmly with fork.
Bake 25 minutes or until lightly browned. Cool. Chill if desired. Cut into bars or diamonds. Store covered at room temperature.
Enjoy! 
Click Here to learn more about Freaky Friday.