Hellfire to Heaven's Light: Creating a Dynamic Sound in The Hunchback of Notre Dame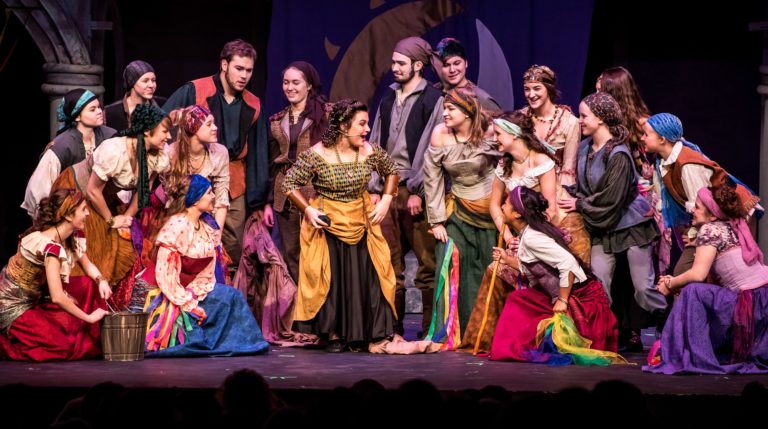 When the Disney animated film The Hunchback of Notre Dame premiered in 1996, its score was hailed by critics as some of the best work by composer Alan Menken and Stephen Schwartz. Twenty years later, Menken and Schwartz returned to their score and expanded it for the stage, this time bringing it closer to the tone and themes of the classic novel by Victor Hugo.
The stage musical features a Choir, present onstage throughout the show, very much the way the cathedral looms above the world of the novel.
Even professional artists may find the show musically challenging, but the results are well worth the effort put in to master this score. Due to the amount of music and the level of difficulty (including several songs in foreign languages), music directors may want to budget a few more weeks of rehearsal than usual for a musical. Here are some tips and strategies to maximize whatever time you have and set you up for success:
Jesuit High School (Portland, OR)
3. VOCAL WARM-UPS
The ranges required for both the Congregation and Choir are about two to two-and-a-half octaves. In order to stay vocally healthy while singing this material, it is vital that performers incorporate a vocal warm-up into their routine. Use passages from the score or simple scale exercises to prepare for the rehearsal ahead. While in rehearsal, encourage singers to "mark" or sing at half-voice when they are learning notes and rhythms. This will help them preserve those high notes for when they're needed most and alleviate vocal strain.
Jesuit High School (Portland, OR)
4. PERFORMING WITH AN ORCHESTRA
Michael Starobin had the rare opportunity to orchestrate this score for the animated film, the first stage adaptation in Berlin in 1999, and this new stage version. The orchestration for The Hunchback of Notre Dame requires 14 players, plus conductor, as follows:
Violin 1
Violin 2
Viola
Cello
Reed 1
Reed 2
Reed 3
Horn
Trumpet 1
Trumpet 2
Trombone
Keyboard 1
Keyboard 2
Drums/Percussion
Menken and Schwartz have created a dynamic score where your cast  and orchestra can perform in styles as varied as Gregorian chant ("Olim"), Broadway ensemble ("Topsy Turvy"), Wagnerian opera ("Hellfire" and "Kyrie Eleison") and contemporary pop ("In a Place of Miracles").
Now you can perform Menken's melodic music and Schwartz's nimble lyrics.  Listen to the Original Studio Cast Recording via iTunes or Spotify.
For more information about The Hunchback of Notre Dame visit the show page.